CORPORATE SOCIAL RESPONSIBILTY (CSR) POLICY
Policy Brief & Purpose
Logomas Packaging's Corporate Social Responsibility (CSR) policy refers to our responsibility toward our environment.
We exist as part of a larger system comprising of people, nature, values and other organizations.
It is our social responsibility to give back to the society and the world, just as they give to us.

What is Corporate Social Responsibility?
Our Corporate Social Responsibility (CSR) policy outlines our efforts to give back to the society and the world.

Scope
This policy applies to our company and its subsidiaries. It may also refer to our stakeholders.

Policy Elements
We strive to be a responsible business that meets the highest standards of ethics and professionalism.
Our social responsibility falls under two categories: compliance and voluntary initiatives.
Compliance refers to our commitment to legality and willingness to observe community values. Voluntary initiatives refer to our pro-active efforts to promote human rights, help communities and preserve our natural environment.

Compliance

Legality
Logomas Packaging is committed to:
• Respect and comply with the law
• Honour its internal policies
• Ensure that all its business operations are legitimate
• Ensure fairness and transparency in every partnership and collaboration


Business ethics
Logomas Packaging will conduct business with integrity and respect to human rights.
We are committed to :
• Safe and fair dealing
• Respect toward the consumer
• Anti-bribery and anti-corruption practices


Environmental Preservation
Logomas Packaging recognizes the importance of protecting the natural environment.
Keeping our environment clean and unpolluted is a benefit to all.
We always follow best practices in waste management and disposal.
We are committed to our Environment Policy.


Protecting people
We ensure that we:
• Do not risk the health and safety of our employees and community.
• Support diversity and inclusion.


Human rights
Logomas Packaging is dedicated to protecting human rights.
We are committed to equal opportunity and will abide by all fair labour practices.
We ensure that our activities do not directly or indirectly violate human rights in any country.


Voluntary Initiatives

Volunteering
We encourage our employees to volunteer.
They can volunteer through programs organized internally or externally.

Preserving the Environment
Apart from legal obligations, we make pro-active efforts in environmental preservation activities.
We have launched our Extended Producer Responsibility (EPR) Campaign.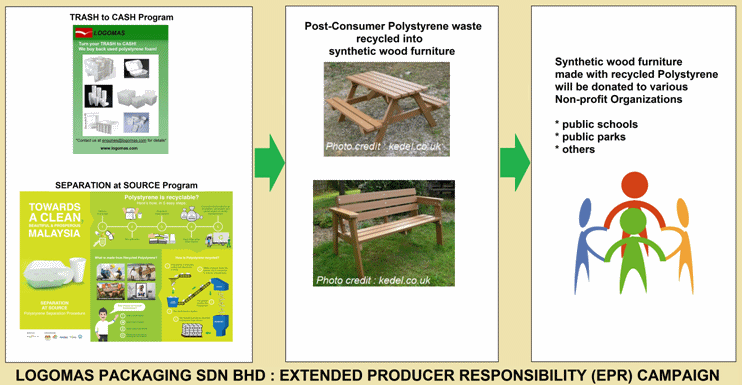 Trash to Cash Program
We promote recycling by offering to buy back post-consumer Polystyrene Foam products at a higher price than the current recyclables' market price. As we understand that PS foam is very light and thus many people are not economically motivated to put in the effort to recycle it, we have taken the initiative to make it more attractive to encourage recycling efforts of the public.

Separation at Source Program
We work with closely with both government and private sectors in Polystyrene Foam waste management. This includes Separation-At-Source activities to encourage recycling and to reduce waste-to-landfill.

Supporting the Community
The recycled Polystyrene from our Trash to Cash Program and Separation at Source Program
will be made into synthetic wood furniture.
The furniture will then be donated to various non-profit organizations.
We are open to other initiatives that support the community and educational programs.